Free FACE to FACE PNW Rockstar Connect Networking Event (September, near Spokane, WA)
The date of the upcoming PNW Networking event has been changed to Wednesday, October 13th, 6-8 PM. Please update your calendars accordingly and we look forward to seeing you for another great event!
FACE to FACE, LIVE, and IN-PERSON!!!
Be a part of your community, grow your business, inspire, motivate, and keep your livelihood healthy and strong! Let's get back to in-person networking with the fun and excitement of having a meaningful interaction that Rockstar Connect events are known for.
Join us for a fine evening of building quality connections with people who MAKE THINGS HAPPEN! PNW Networking powered by Rockstar Connect hosted by Dallas Richardson is happening at True Legends Grill on October 13, 2021, from 6 PM to 8 PM.
This event is given to the community by the host as a benefit to bring people together. The hope is that each attendee will leave with some new knowledge, a new connection, or new possibilities for building a business while supporting the venue thrive through this challenging time too.
"Assisting assisting professionals and families by eliminating debt, reducing unnecessary tax in capital gains, estate, and income taxes."
What's new? Check out our landing page for more details: https://rockstarconnect.com/pnw/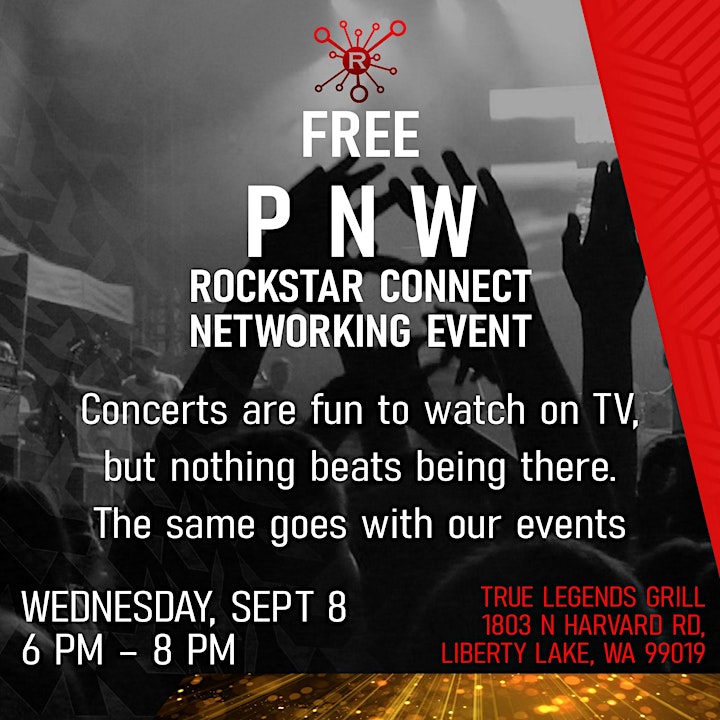 Rockstar Connect
https://www.rockstarconnect.com/
All attendees are welcome, either living in or visiting the Greater Spokane, Washington area: Opportunity, WA, Cheney, WA, Post Falls, ID, Rathdrum, ID, Hayden, ID, Sandpoint, ID, Pullman, WA, Moscow, ID, Lewiston, ID, Moses Lake, WA, Rossland, Canada, Trail, Canada, Fruitvale, Canada, Salmo, Canada, Grand Forks, Canada, West Spokane, WA, Hillyard, WA, Yardley, WA, Parkwater, WA, Glenrose, WA, Town and Country, WA, Orchard Park, WA, East Spokane, WA, Geiger Heights, WA, Orchard Avenue, WA, Country Homes, WA, Dishman, WA, Millwood, WA, Seven Mile, WA, Pasadena Park, WA, Lyons, WA, Orchard Prairie, WA